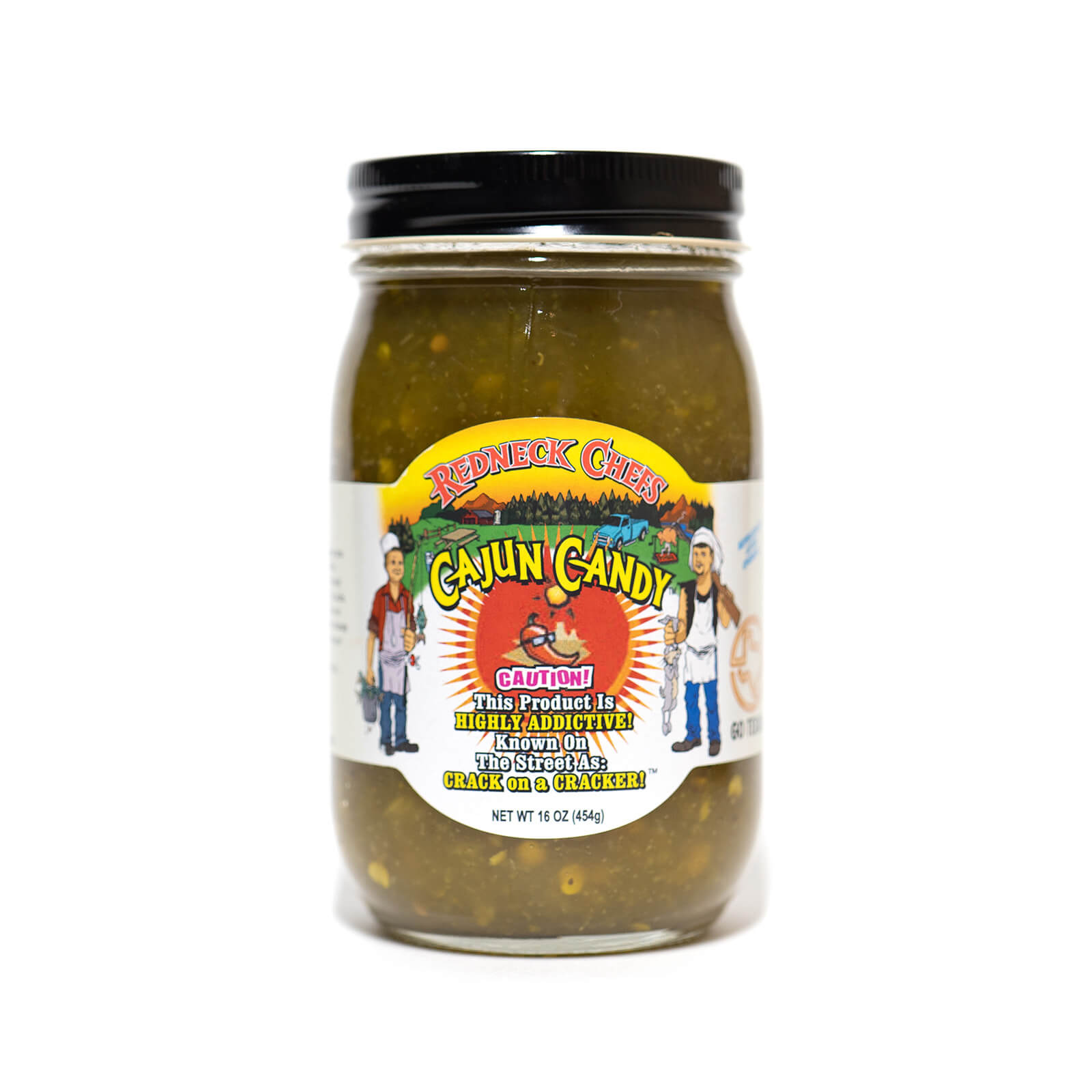 Cajun Candy AKA "Crack on a Cracker"
$8.99
From Redneck Chefs, these addictive candied jalapenos are best known on the street as: "Crack on a Cracker". It pairs excellently with cream cheese & crackers (similar to a pepper jam), but otherwise goes with just about anything! Use it as a relish with deviled eggs, tuna, chicken salad or try it in your cornbread and hush puppies. Whatever the dish, it's always better with the authentic Cajun Candy.
Could have been a 5
Not giving a 5 rating because it arrived with 1 of the jars broken and spilled and soaked the whole package. I at once sent an email to you about the situation and asked for a replacement without having to send the mess back through the mail. To this day I have not received any kind of response. As far as the product itself goes, it's great. I first sampled it and purchased i t at the Southern Christmas Show in Charlotte, NC this past November and wanted more to share with family and friends. Your packaging for your glass jars needs to be rethought. I feel I'm not the first this has happened to. I hope so hear from you soon. Like I said, your Cajun Candy is GREAT!!
Hey Maureen! I'm terribly sorry that your package was ruined, and I'm really not sure how you slipped through our net, but we of course would love to replace the broken jar for you! A rep will reach out to you today so we can make this right for you.
OMG
This stuff is amazing. I have not tried it on ice cream……yet.
It's Everything!!!
Our family rule: if it has cheese, Crack makes it better! We put it in chili, breakfast burritos, macaroni and cheese, lasagna, spaghetti, on sandwiches and pizza, and use it as a dip poured over cream cheese.
The possibilities are endless!